Glimmer comes in a chew, so you can give it just as you would a treat! You can also add the chew to their bowl or crush it up and sprinkle it over their food.
Absolutely! Omega fatty acids come from a dog's diet because they can't produce them on their own. Glimmer is an ideal source of essential Omega 3 and 6 that dogs need for skin and coat health so give them a tasty chew daily! 
This depends squarely on your pet's weight. Head to the shop page to use the calculator. You'll get an estimate based on your whisker-toter's weight.
Absolutely! We recommend the small chews.
Yes! Glimmer is a great source of daily Omega 3's and 6's, so all ages benefit, including puppies and kittens! 
Absolutely! We recommend adding Glimmer to all Herbsmith regimens.  
With clean Omega 3s from algae, krill and anchovy and Omega-6 fatty acids with GLA from evening primrose and borage oil, Glimmer promotes skin integrity. Once your pup's skin is hydrated and healthier, those luscious locks have all the nutrients they need to grow. 
You bet. Hot spots are painful, oozy and itchy, so it makes sense your poor pup can't or won't leave them alone. Glimmer promotes skin integrity by supplementing clean sources of Omega 3s and 6s so those hot spots can heal. For complete support, consider combining Clear AllerQi for long-term relief.
All orders are shipped within 1-2 business days.
Orders arrive in 3-6 business days from when they are sent.
We stand behind the quality of each and every product that goes out our doors. If the product you receive isn't quite up to snuff, please reach out.
The health of the Southern Ocean ecosystems depends heavily on healthy krill populations.While still exceptionally abundant, according to the U.S. National Oceanic and Atmospheric Administration, Antarctic krill populations have dropped an estimated 80 percent since the 1970s. Scientists have not determined the exact reason, but the loss of sea ice is thought to be a major factor.
Scientists are also concerned what the combination of fishing and climate change (including ocean acidification) means for Antarctic krill and, in turn, for the entire Antarctic marine ecosystem. The increase in fishing is largely because of the increase in demand for krill oil. We completely understand these concerns and share in it.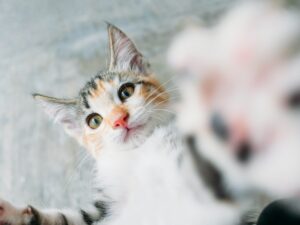 Not Sure If Glimmer Is Right For Your Pet?
If you're undecided or unsure about whether Glimmer is the right fit, answer a few questions to get personalized recommendations for your crew.
Still Have Questions About Glimmer?
We'd love to hear from you! We're 100% confident in the quality and effectiveness of our products, but we want to make sure you buy with that same confidence. Fill out the form to the right and someone from our team will be in touch.