Description
Overview
Nutrients®: Superfood for Superdogs™ is a highly concentrated blend of nutrient-rich fruits and vegetables, known as "superfoods", geared specifically towards a carnivore's needs. Broccoli, blueberries, pomegranate, spinach, sweet potatoes, cranberries, tomatoes, barley grass, and spirulina provide natural vitamins, minerals, phytonutrients, and antioxidants that are necessary for optimal health.Nutrients®: Superfood for Superdogs® helps to keep dogs in peak condition and maintains the general health of all breeds and ages. Many dogs can benefit from additional vitamins such as A, D, and E, as well as phytonutrients and antioxidants from whole food sources rich in nutrients.
Nutrients®: Superfood for Superdogs™ is Available in:
6.5 oz and 2.93 oz containers
Feeding Directions
Sprinkle over food.
For Dogs:
< 10 lbs………½ tsp per day
11-25 lbs…….½ – 1 tsp per day
26-55 lbs…….1 – 2 tsp per day
56-80 lbs…….2 – 3 tsp per day
81+ lbs……….4 tsp per day
For animal use only. This product is intended for intermittent or supplemental feeding only.
Ingredients
Ingredients and Their Beneficial Phytonutrients
Blueberries – Anthocyanin antioxidants
Cranberries – Polyphenols, proanthocyanidins, flavonols, and quercetin
Sweet Potatoes – Source of beta-carotene
Avocado Meal – Good oil – high in Omega-9
Spinach – Rich in antioxidants, iron, calcium, vitamins, and minerals
Tomatoes – High lycopene
Broccoli – High levels of indole-3-carbinol
Barley Grass – Beta-carotene, B vitamins, minerals, and antioxidants
Pomegranates – High in Vitamin C, Vitamin K, and polyphenols
Algae Meal – High levels of vitamins, minerals, pigments, and good oils
Ingredients: Ground turkey, spinach, tomatoes, avocado meal, cranberries, blueberries, algae meal, sweet potatoes, broccoli, barley grass, pomegranates, zinc proteinate, betaine anhydrous, iron proteinate, L-Carnitine, Vitamin E supplement, calcium carbonate, niacin supplement, biotin, calcium pantothenate, riboflavin supplement, copper proteinate, manganese proteinate, pyridoxine hydrochloride, thiamine mononitrate, sodium selenite, Vitamin B12 supplement, Vitamin A supplement, Vitamin D3 supplement, calcium iodate
Relevant Blog Posts
The Cognitive Health of Aging Pets
"Blessed are those who have earned the love of an old dog." We have a wonderful population of geriatric dogs, in part due to the work of so many fabulous people. Read More »
---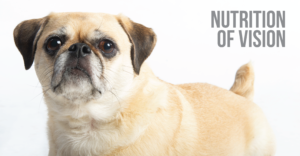 Nutrition of Vision
It's important to keep the eyeballs of our pets healthy and sharp, and you can do this through antioxidant- & vitamin-rich foods! Read More »