Tell Us Everything About Sarafina!
Sarafina came to me almost 10 years ago from a rescue called New Spirit 4 Aussie Rescue. I was 18 and a sophomore in college and just got my first apartment. The first thing I had to do was get a dog! 
I had always wanted an Australian Shepherd, so I started the hunt for MY first dog (I had family dogs growing up, but this was my first dog on my own). I struggled to find a rescue that would adopt to me because I was 1) 18 years old, not 21, and 2) I lived in an apartment and didn't have a fenced-in yard (even though she could come to college with me every day, I was in school for a vet tech program and it was very dog friendly).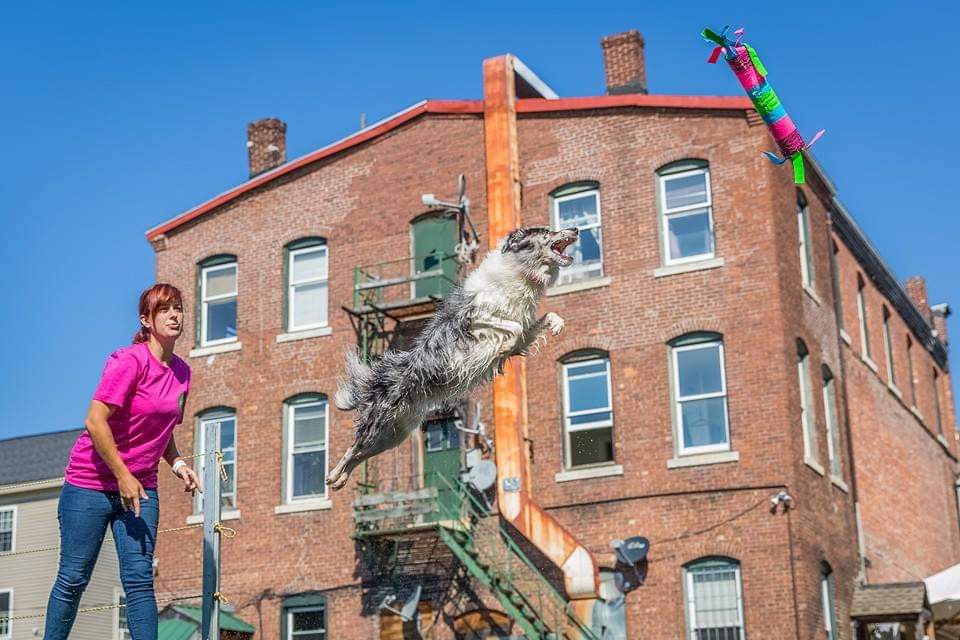 They explained that the litter had gotten parvo and kennel cough from the kill shelter they were at before they got into foster care and a few puppies passed, and many of the other puppies had people back out because they didn't want a puppy that had been sick. Sarafina (formerly Mimic) was a spicy puppy, she had lots of herding drive and would nip heels, and they really wanted to make sure she would go to a home that could handle and channel her drive in the correct way. I was in! 
I was excited to get into some sort of sport with her and do training, I was young and active and hiked, and she would be mentally and physically stimulated each day at school with me. 
So, I got approved by New Spirit 4 Aussie Rescue, and I drove to VA to pick her up when she was 10 weeks old! And the rest is history. She is such an amazing dog. I knew NOTHING when I got her, and she still exceeded all my expectations and took all my learning experiences with her in stride.
What Do You Just Love And Adore About Her?
EVERYTHING. I love her personality. She is spicy and sassy! 
She helped me grow so much as a trainer because she is SO smart and motivated, but everything is on her terms.
I love that she makes me work for stuff and makes me think outside the box. And I mean, who doesn't adore that cute face either?!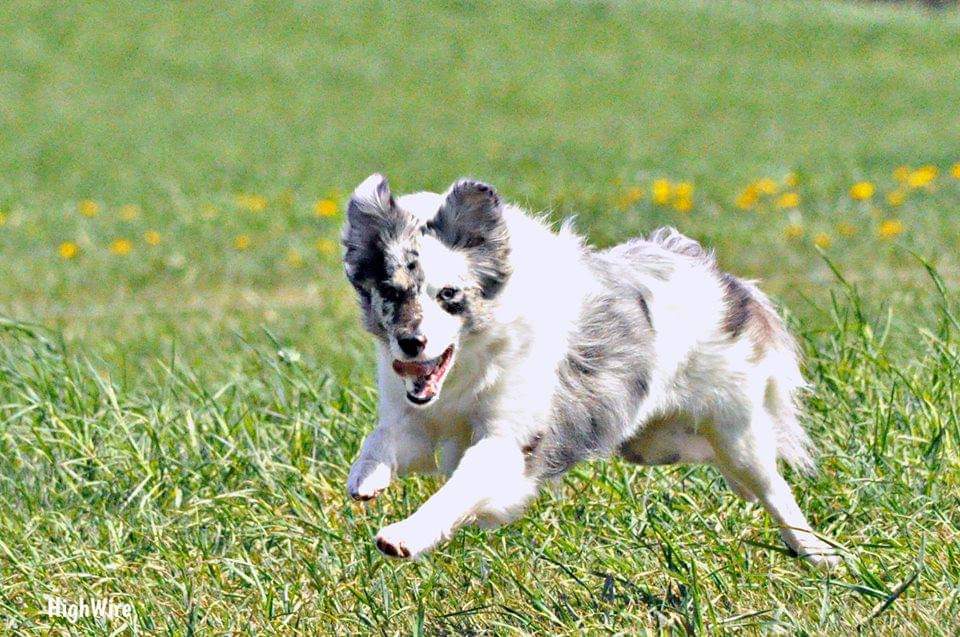 What Is Sarafina's Daily Routine?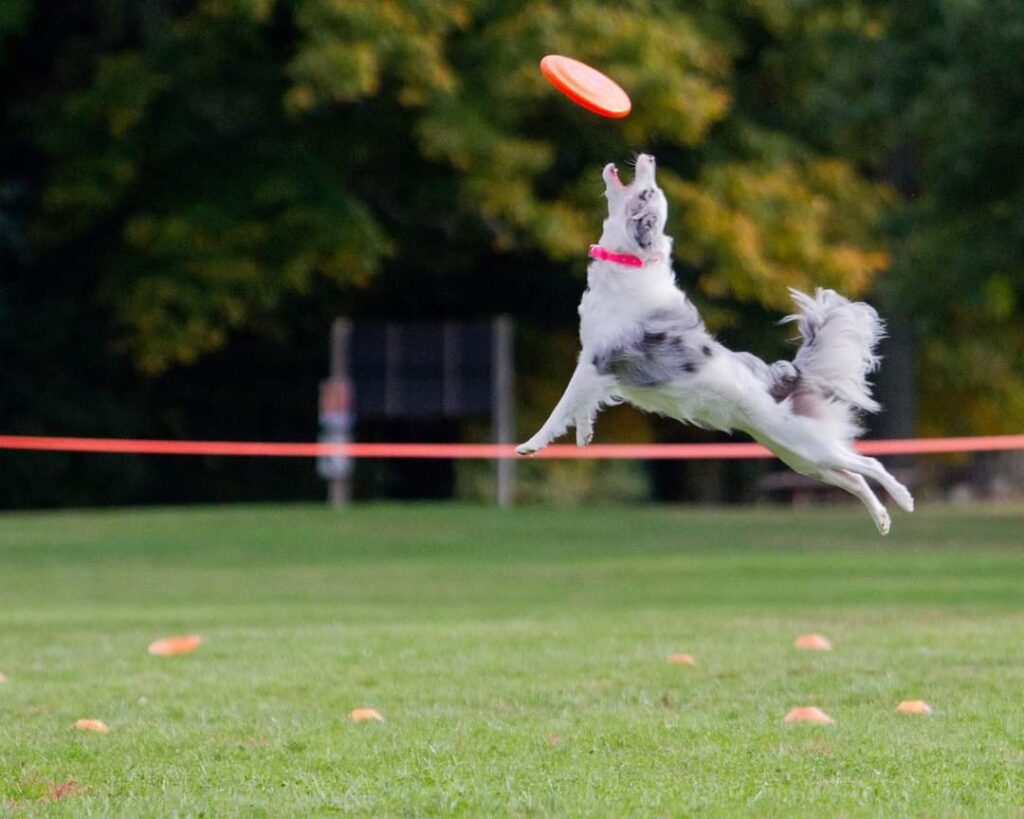 Sarafina's daily routine consists of sleeping in bed (she prefers to be on top of the pillows, ha) and waking up to get some breakfast! Most days, Sarafina either comes with me to work or spends the day with my mom, who works from home. 
She gets a walk or some fitness in every day to help keep her active. In the summer, she swims 3x a week in the pool. On the weekends we compete! She still participates in and LOVES dock diving, lure coursing, and flyball.
You Mentioned She Just Ran A New Personal Best In FastCAT?
Yes! We went to a FastCAT event a few weekends ago, and she ran some great times! When I referenced back on her little sheet of stats I keep, I was like, WOAH! 
That's her fastest time ever! At almost 10 years old!
Tell Us About The Party You're Throwing To Celebrate Sarafina Turning 10 This Year!
Sarafina's daily routine consists of sleeping in bed (she prefers to be on top of the pillows, ha) and waking up to get some breakfast! Most days, Sarafina either comes with me to work or spends the day with my mom, who works from home. 
She gets a walk or some fitness in every day to help keep her active. In the summer, she swims 3x a week in the pool. On the weekends we compete! She still participates in and LOVES dock diving, lure coursing, and flyball.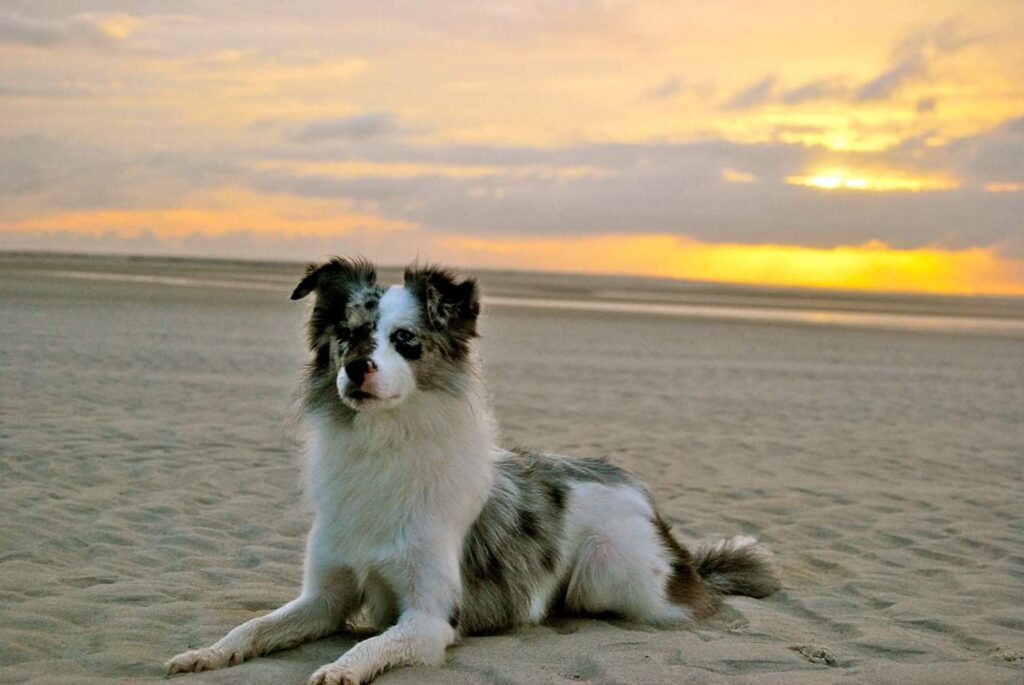 Yep, I am pulling out all the stops for this party! I keep relating it to a spoiled child getting a sweet sixteen party. I have a huge 3-tier custom dog cake being made for her with custom dog cookies as party favors for her dog guests. I have a 32 ft saltwater dog pool I bought this year that she will be swimming in at the party as well as her dog guests! We have human cakes and goodies as well. 
I am also doing a large raffle with all the proceeds going to New Spirit 4 Aussie Rescue, where I adopted her from when she was 10 weeks old. I want to give back to this amazing rescue who took a chance on me and let me adopt my heart dog 10 years ago. Without them, my life wouldn't have Sarafina in it, and it would be completely different!
Can You Share More About Your Job As A Trainer?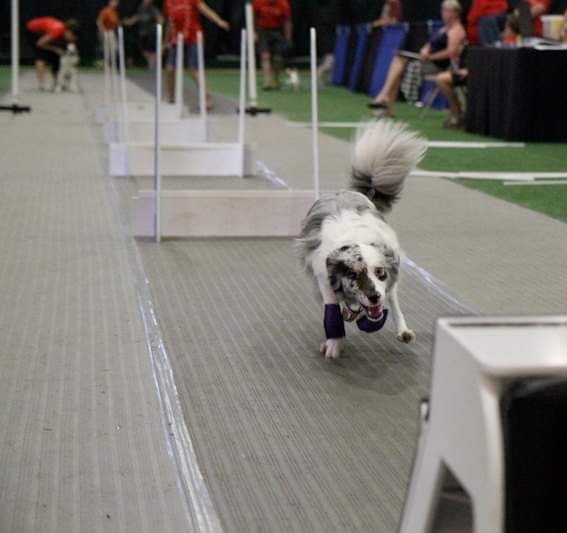 I went to college for Veterinary Technology. I worked for a few years as a certified vet tech while taking dog training classes with Sarafina and really getting into dog training. I was hooked, and it brought me so much joy to not only work with my own dogs but to be able to help other people build their relationships with their dogs, too. 

My first step towards making a move to training was getting my CCFT (certified canine fitness trainer) certification. I had been working in canine physical rehabilitation.

I was just starting to compete in sports with Sarafina, so I started to learn about canine fitness, and I was immediately in love. Being able to provide owners with the resources and functional fitness plans for their dogs to prevent injury was amazing to me. 
I started a canine fitness company going around teaching seminars while continuing my education by taking classes for dog training. I began with a few clients in dog training to get my feet wet and see if I was any good at it (ha), and it blew up. I now have a 3600+ sq ft facility with 3 other trainers running various programs from pet dog programs to sport dog programs, and I love it!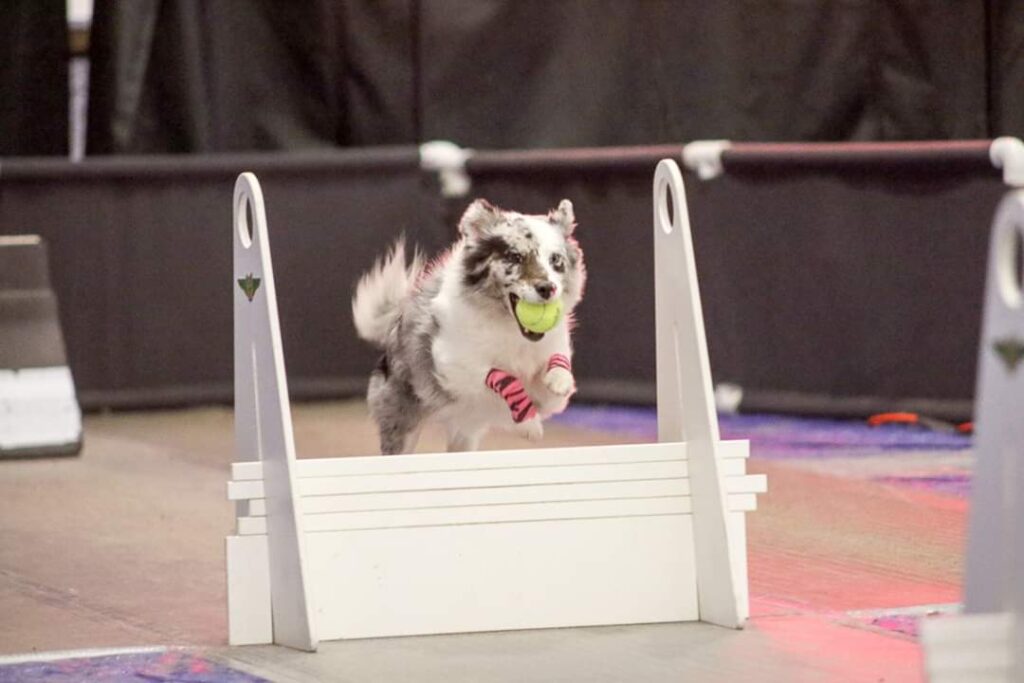 Being really involved in the canine fitness and canine sports world, what I put in my dog's bowl is extremely important to me. Nutrition plays a huge role in my dog's well-being and their overall health. I always say I want Sarafina to live forever, so being able to provide her with quality nutrition to help keep her active and healthy for years to come is so important to me.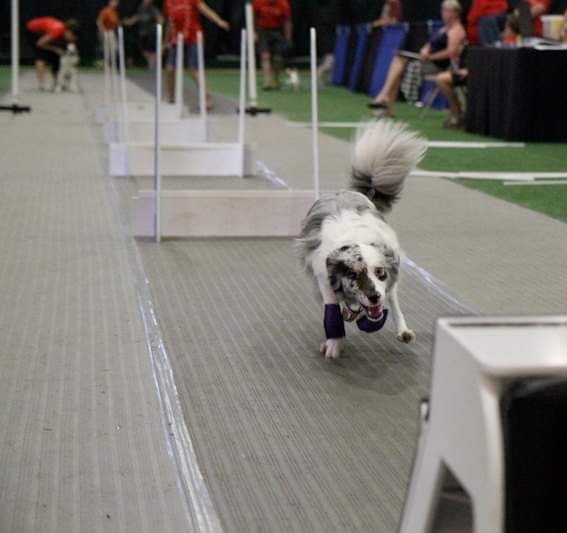 How Do You Curate The Bowl With Herbsmith?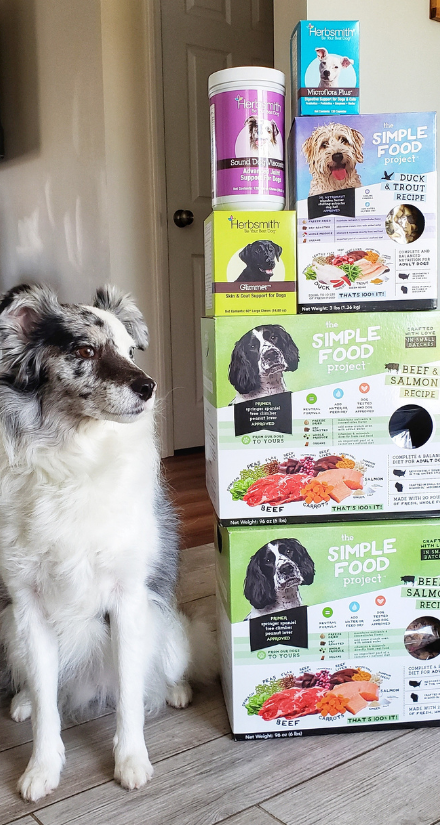 I fell in love with Herbsmith products when I started competing in sports with Sarafina around 3 years old. I researched joint supplements because I knew how important joint support is for a dog that competes in sports. I wasn't just looking for any joint supplement though, I was looking for a joint supplement for Sarafina, so it had to be the best. I was already feeding a raw diet, and I had interned for an amazing veterinarian in MA who worked a lot with Chinese herbs, so I was already a huge believer in their amazing benefits. 
My research led me to Herbsmith Sound Dog Viscosity. Not only did this check all the boxes for the traditional joint support ingredients (glucosamine, chondroitin, MSM, HA), it also contains herbs that will help support her muscles and joints with all the high-impact activities we do.
I ordered right away, and every time I reordered, I found myself ordering something else that benefited Sarafina. Sarafina has always gotten Sound Dog Viscosity, but now she also gets Senior Dog Wisdom, Microflora Plus, Spector, Nutrients, and I alternate Glimmer and Pure Krill (to keep her skin and coat looking amazing) regularly. I also give her Athlete, Milk Thistle, Comfort Aches, and Soothe Joints on specific occasions
Could You Talk More About Why You Use Those Particular Herbsmith Products?
Her everyday Herbsmith products are for her overall well-being no matter what's on the schedule. I started her on the Senior Dog Wisdom when she turned 8.  
I actually did a literature review paper in college on the effects of antioxidants and amino acids on the prevention of canine cognitive dysfunction, so I truly believe in that product. Once she was considered a senior, I put her right on it!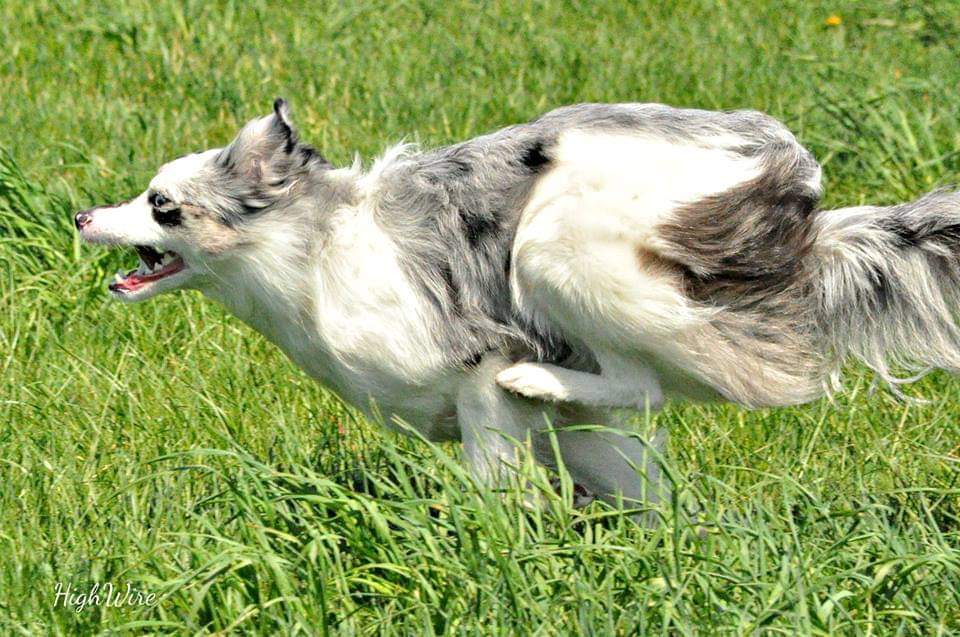 Microflora Plus has been a savior for us for years. One of the long-term effects of parvovirus in dogs is gastrointestinal problems, but thanks to Microflora Plus, she hasn't had any issues in years. As she is aging, her eye health is also extremely important to me, so Spector was a natural addition as she aged. 
I even give it to all my younger dogs now, too. Nutrients is a staple in this house as well because antioxidants are so important to make sure she stays healthy and active for years to come. 
Glimmer and Pure Krill are both fantastic for keeping her skin and coat in beautiful order. When she was younger, she had an immune reaction (secondary to the parvo) to a vaccine, and her skin was a MESS afterward. The Herbsmith products helped her get back on track. I used Clear AllerQi, Milk Thistle, and Glimmer, and she hasn't had any skin issues in years since being on these products. I honestly even forget that she ever had such bad skin issues.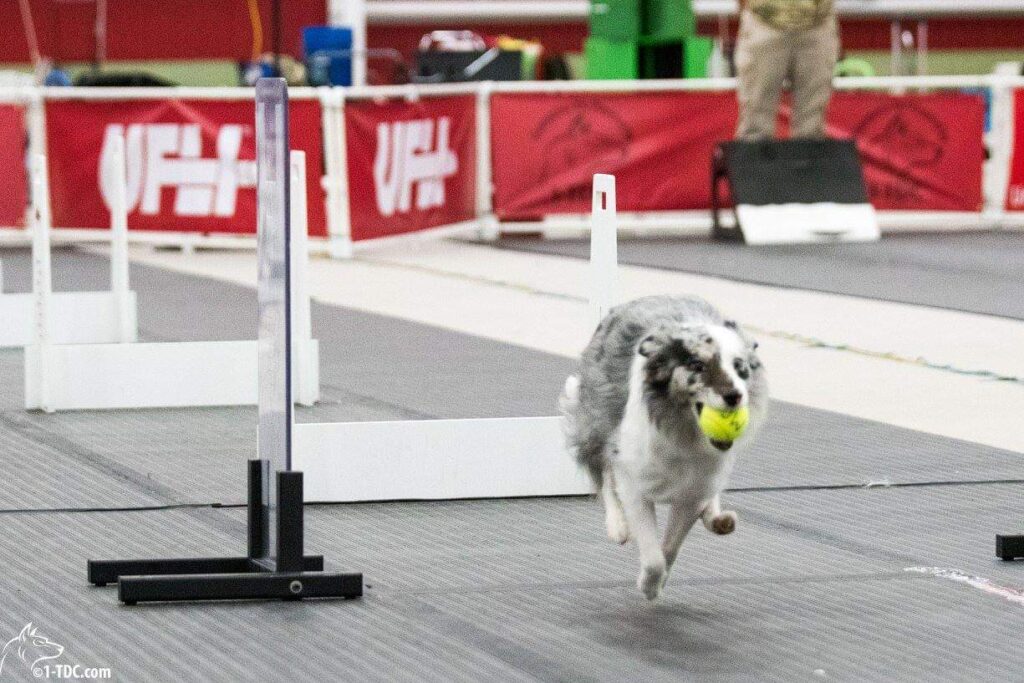 We use the Herbsmith's Athlete when we are competing or training/conditioning. I find this product is especially helpful in the warmer summer months. Sarafina doesn't always want to drink a ton of water at competitions, and I was searching for a product to help make sure she stayed hydrated. I tried a bunch of the water add-in products, but I still couldn't get her to drink them. 
I found Athlete, and I was so happy to have a product I could add to her meals to help her fluid stay balanced even when she was competing. I found her heat tolerance is much better when she is taking Athlete. 
Herbsmith Milk Thistle is something I have been giving her since she was younger. It helped a bunch when she had her skin issue, and I continue to use it when I have to give her heartworm medication or she is exposed to a local park with lawn chemicals. 
Herbsmith Comfort Aches and Soothe Joints have become increasingly important as she ages. I use them after a chiropractic appointment or after heavy training or competition. They help keep her limber and ready to go!
How Has Sarafina's Life Changed Since You Started Curating The Bowl?
As I mentioned above, Herbsmith has helped her through lots of life changes, whether it was having a horrible skin reaction or her gastrointestinal issues as a young dog, or just aging.
I'm so happy that at almost 10 years old, she is still active, happy, and sassy. I wonder all the time if she didn't have these products supporting her how she might be different as she ages. With Herbsmith on her side, she isn't slowing down anytime soon, mentally or physically!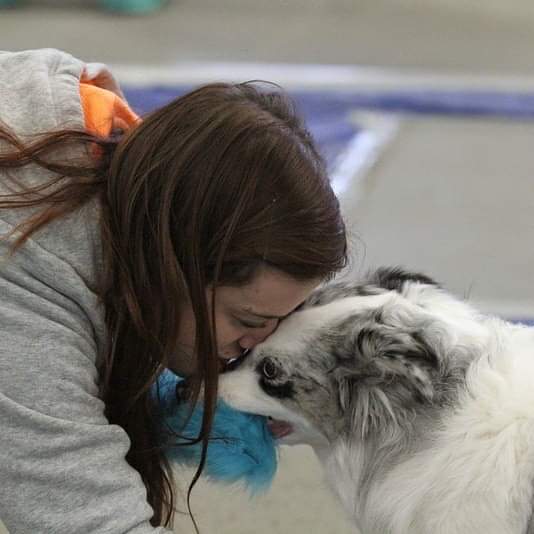 Which Herbsmith Product Can You Not Live Without?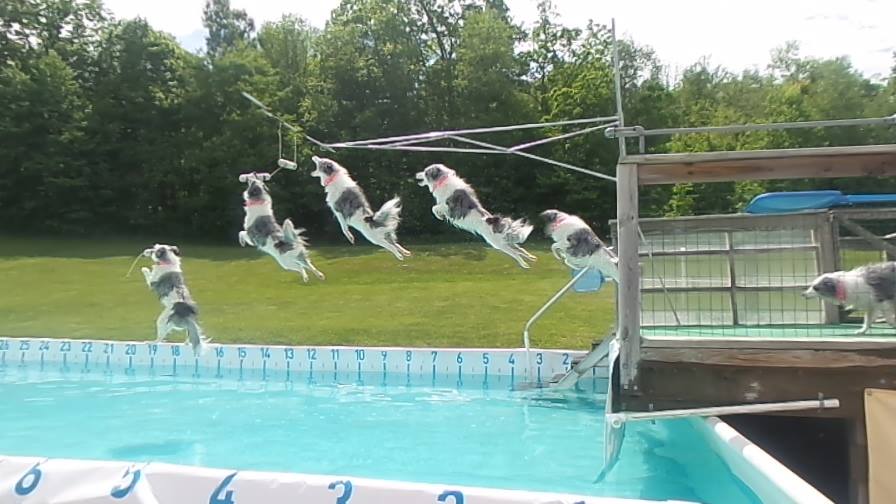 Oh, that's a tough one because I literally have a giant basket on my kitchen counter full of Herbsmith products, but probably Sound Dog Viscosity. I don't really think I can put a price on having an almost 10-year-old dog who is still completely sound and able to still do all the things she loves like dock diving, lure coursing, and flyball.
What Would You Say To Someone Thinking About Curating Their Pet's Bowl?
Do it! The long-term effects are something you can't put a price on. We all want the best for our dogs. We all want them to be around for as long as possible (because even that is never long enough). We want them to have as much quality in their lives as possible, and this can truly give that to your dog.