Christina currently has four deaf dogs (pictured at the top of this post with her other two non-deaf doggies), but her passion for these special pets extends far beyond just her own home. She is the Founder and President of Deaf Dogs Rock, a non-profit organization committed to the care and well being of deaf dogs. Through the "education of the public regarding the adoption, care, and training of deaf dogs, and through financial support of the shelter, medical, and transportation needs of deaf dogs", Deaf Dogs Rock has helped nearly 2,000 deaf dogs find forever homes. How awesome is that?
National Deaf Dog Awareness Week
Because its National Deaf Dog Awareness Week, we wanted to put one of our favorite charities into the spotlight. Below is a short interview we had with Christina herself.
Q: Why did you start Deaf Dogs Rock?
A: I adopted my first deaf puppy Nitro in 2010. For the next 7 months, we went to training and he excelled so much the local news station (WDBJ) did a story about a deaf puppy named Nitro learning sign language. The story went national and we started hearing from people all over the country that had questions about living with a deaf dog and training a deaf dog.
I remember looking at Nitro's sweet face after the news story broke and I thought to myself, "how on Earth could shelters and breeders automatically put a deaf dog or puppy to sleep just because it's deaf?" That was my Aha moment!
My birthday was two weeks away and I asked my husband, Chris, if—for my birthday gift—we could sit down together to design and launch the national website (known around the world today), DeafDogsRock.com. I thought it was the perfect way to help others who live with deaf dogs, and also work with shelters and rescues to get deaf dogs listed for adoption and sponsor deaf dogs into partner rescues.
Deaf Dogs Rock has financially sponsored just over 350 deaf dogs into rescue (we are at 115 deaf dogs sponsored so far this year) and helped over 2,000 deaf dogs get adopted through our website.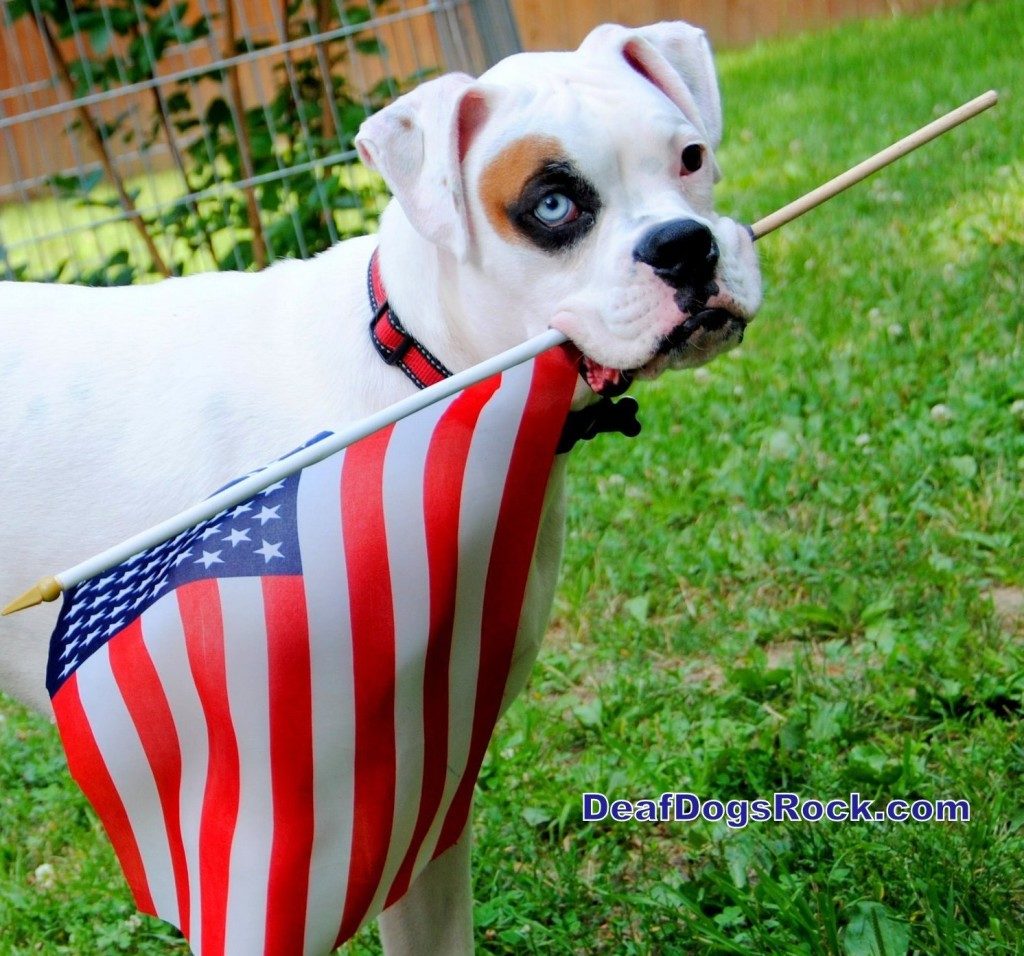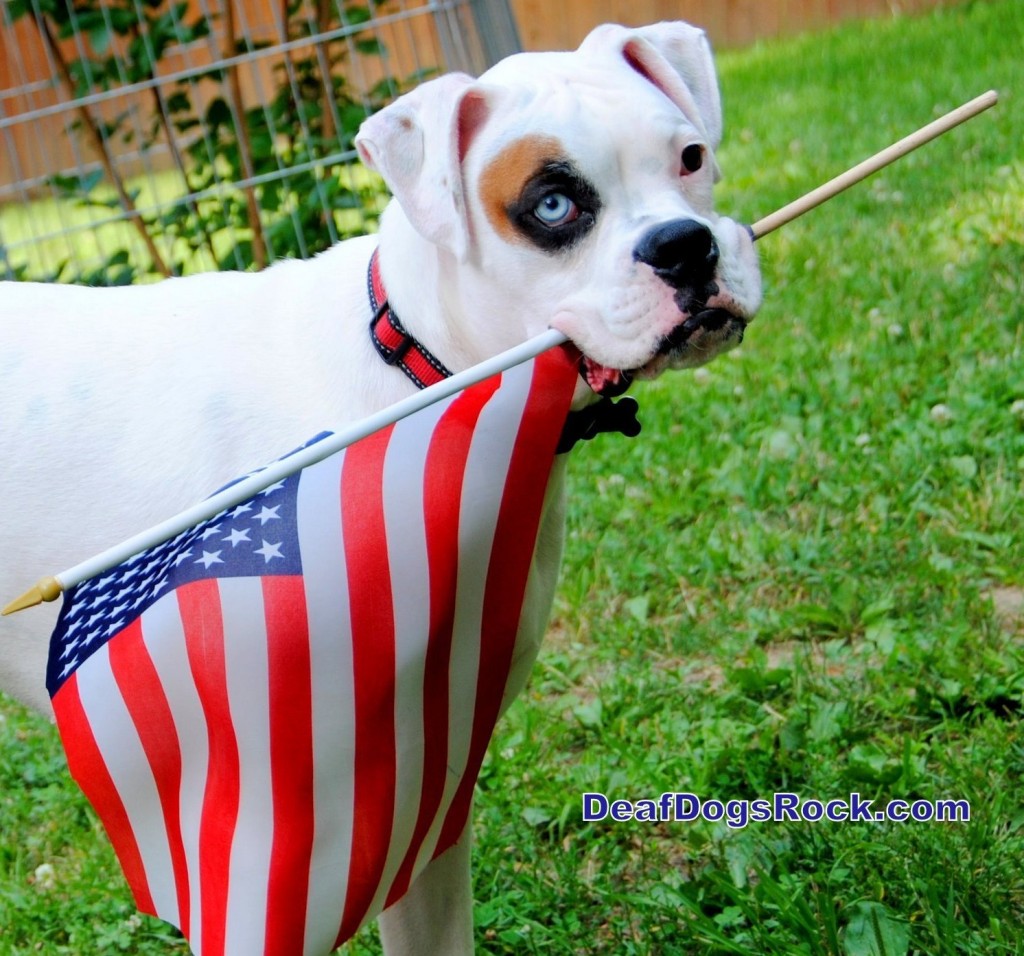 Nitro (Christina's first deaf dog) all grown up
Q: What do you like most about your own deaf doggies?
A: I have four deaf dogs and two hearing dogs… and each dog is so different. I guess the thing I love the most about my deaf dogs is how tuned in they are to me. They were all trained and conditioned to watch me, but they also have their own timeline for when things should be done around here.
They can be very manipulative when they want something and they know they've got strength in numbers! If it's dinner time and three out of four of the deaf dogs are asleep, the one that's awake will go and touch the other three to wake them up so they can all gang up on me to give them their dinner. (When I say gang up on me, I really mean they all come over to me with their wiggly butts, and they kiss each other and me until I get up and feed them).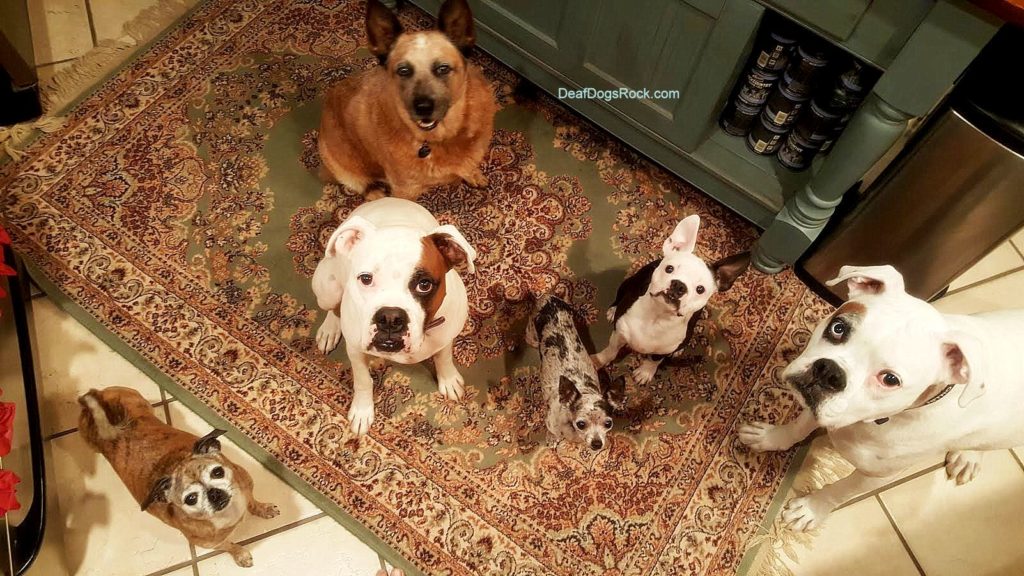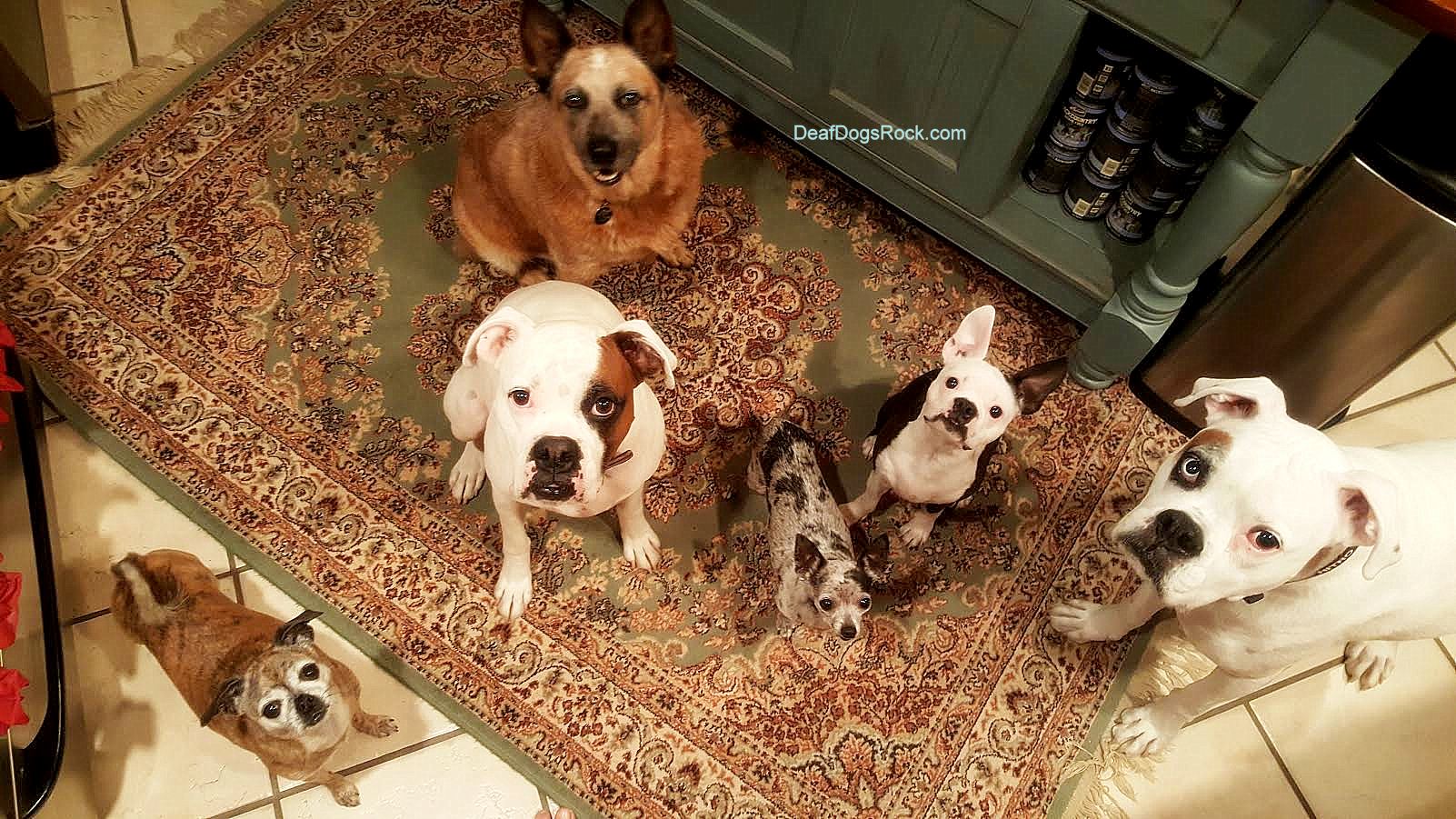 The whole gang: Bud (the boxer on the left), Cornell (the red heeler), Bowie (the little boston terrier) and Nitro (the boxer on the far right) are all deaf.
Q: What was the greatest challenge you faced when first adding a special needs puppy to your family?
A: The greatest challenge was lack of education and training. I also did not know any American Sign Language (ASL). I started out watching a video on YouTube by ASL interpreter Alisha McGraw who demonstrates all the ASL signs she uses with her deaf Boston terriers and deaf boxer, which really helped us (Alisha's video is now on our website under "Beginning Sign Training" for your deaf dog).
With Nitro (our first deaf puppy), I think the biggest challenge I faced was his detachment even as a 10-week old puppy. He would not look at me and didn't seek attention when we first adopted him. After the first 24 hours of having Nitro home, I kind of freaked out like, "What have we done, I don't know anything about training a deaf puppy!" My husband Chris talked me off the ledge and suggested we find a good training facility so we could take him to puppy classes.
We started training at Field of Dreams training center and Nitro was a star pupil. At only ten months old, he passed his AKC Canine Good Citizen test with flying colors. After everything we've learned, I want to continue to help others so they don't have to be freaked out when they find out their new puppy is deaf.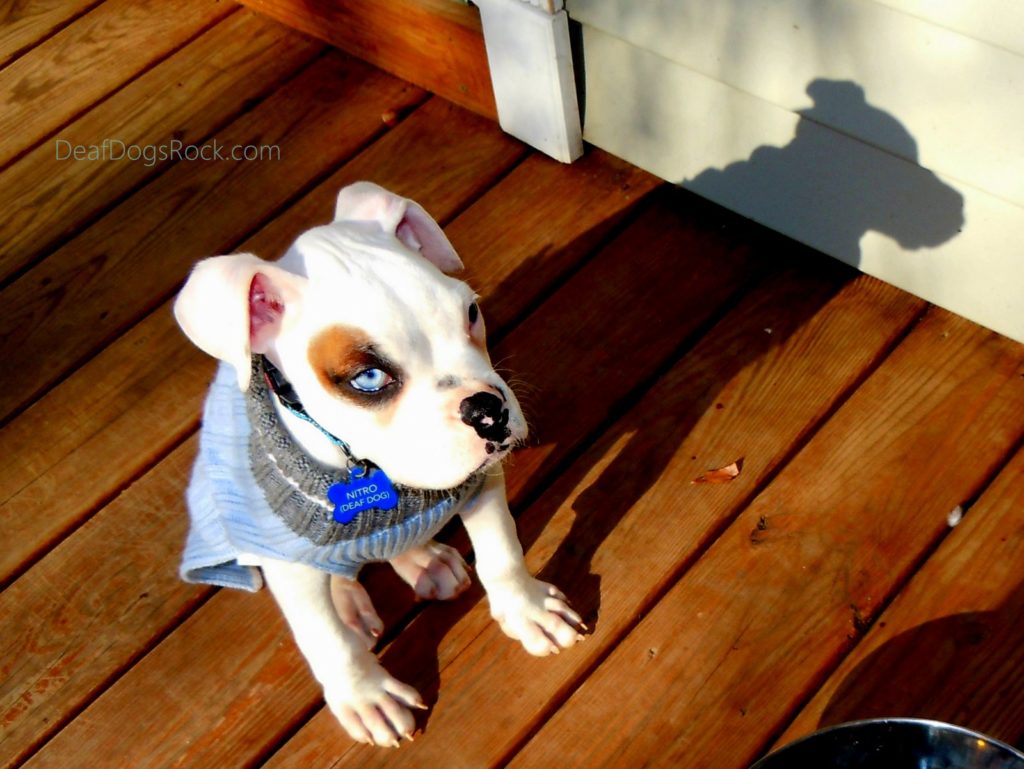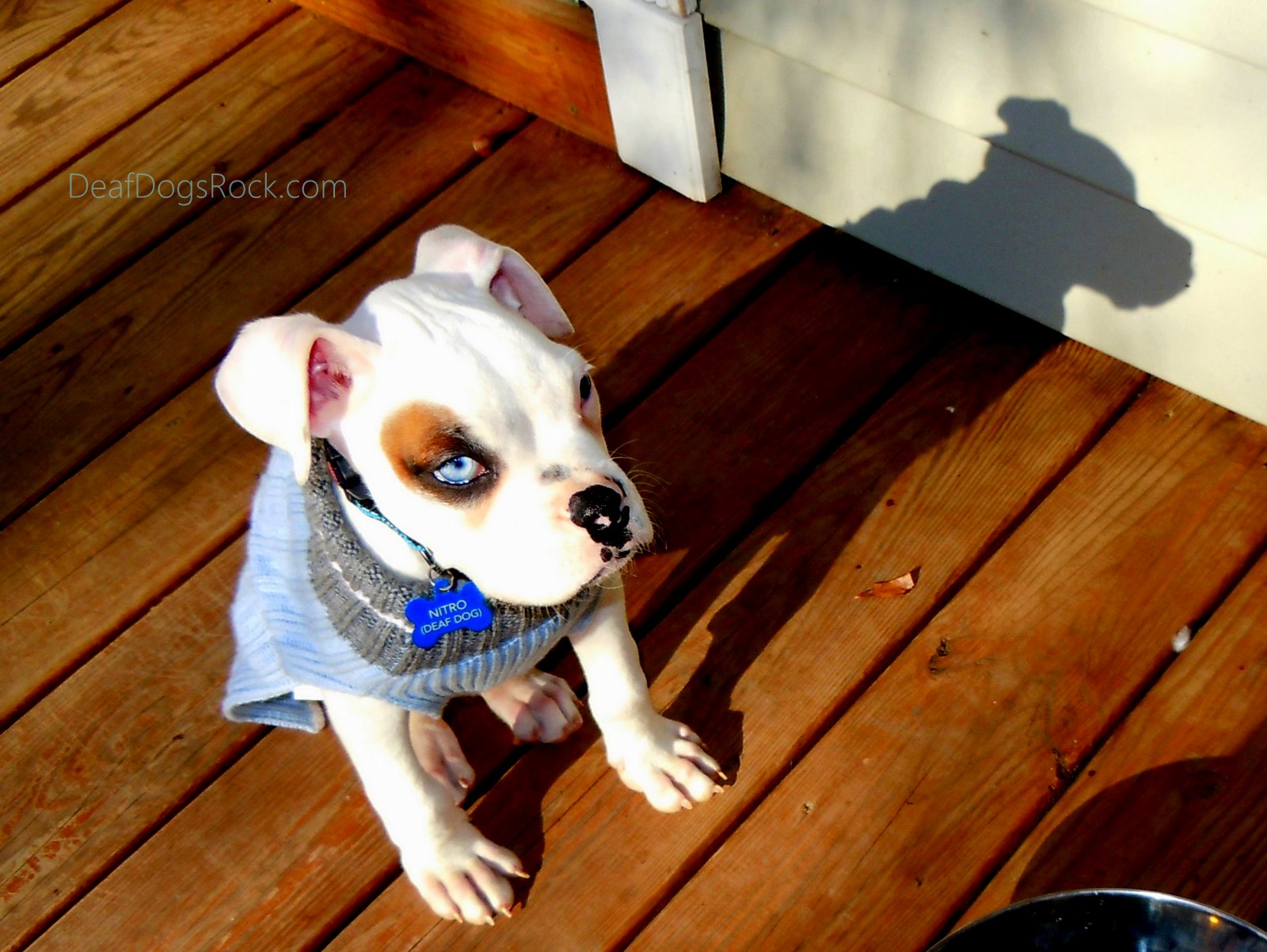 Q: What do you think the greatest misconception is about deaf dogs?
A: Either that they are "hard to train" or that they are more likely to be aggressive if they are startled. In reality, they are 20% less likely to be aggressive than a hearing dog and they excel in training because they have a HUGE advantage over hearing dogs… they are not distracted by noises or barking! They are way more focused on their handler in a dog training class environment.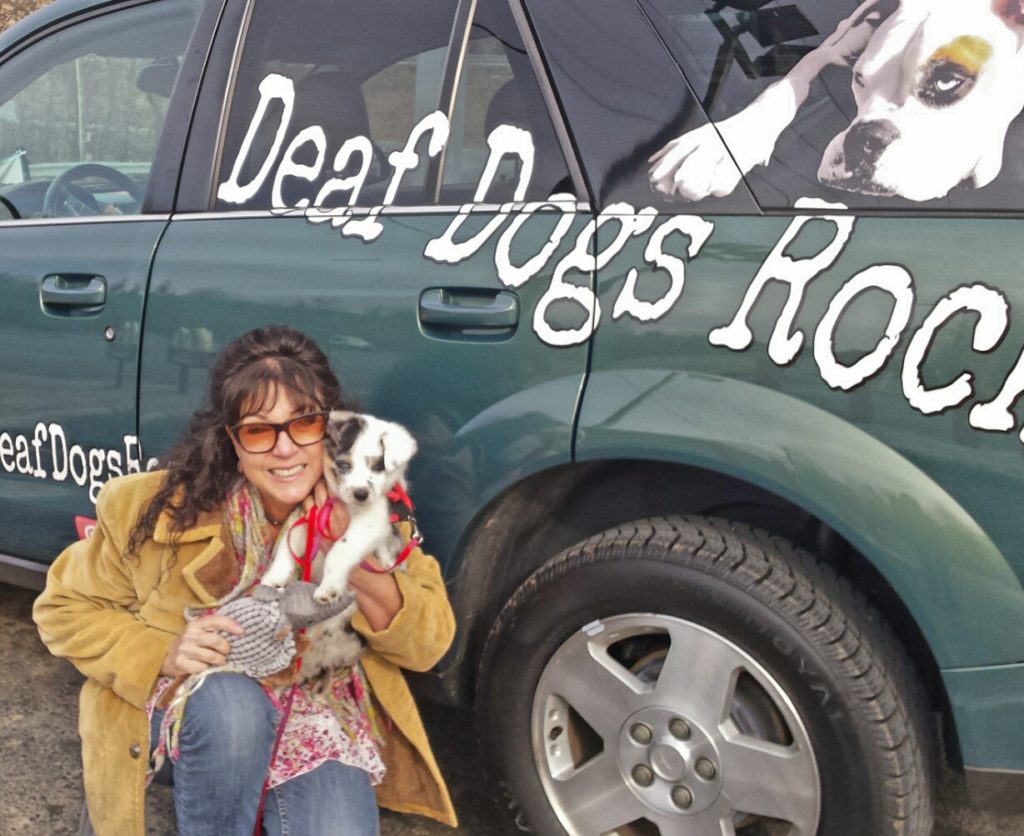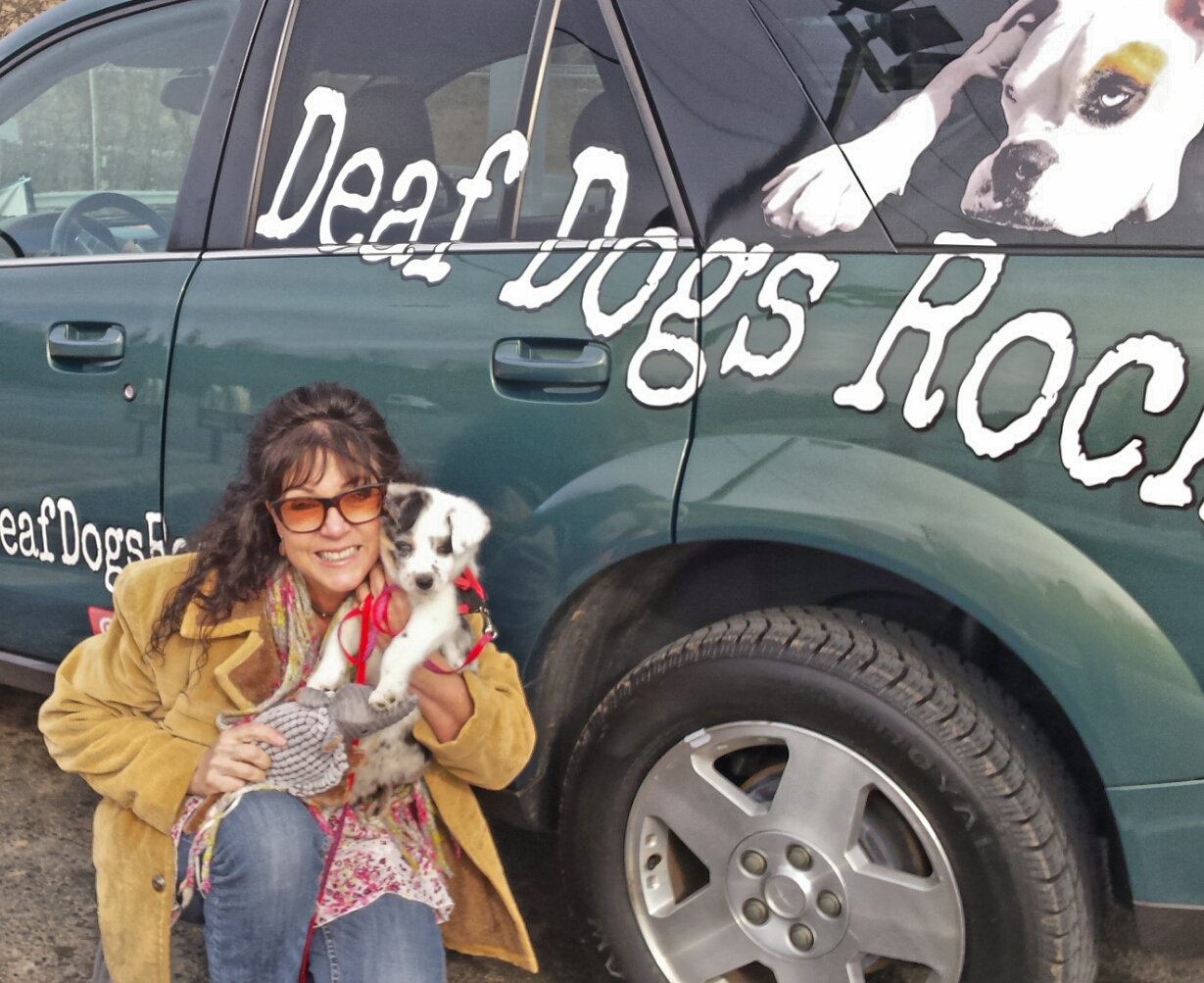 Christina and the Deaf Dogs Rock rescue transport van, which helps move deaf puppies on the east coast to the safe harbors of rescue partners.
Q: What advice would you give to someone who is considering adopting a deaf dog?
A: I would tell them to do their homework first! Our website has so many great tips for training and owning a deaf dog on our Deaf Dogs Rock Training Tips Blog.
Adopting a deaf dog is not for the faint of heart, either. It takes a huge commitment to use daily positive reinforcement training methods, daily socialization, extra safety measures, and to build trust with your deaf dog. You have to become your deaf dog's advocate, which means always taking additional steps to keep him/her out of harm's way.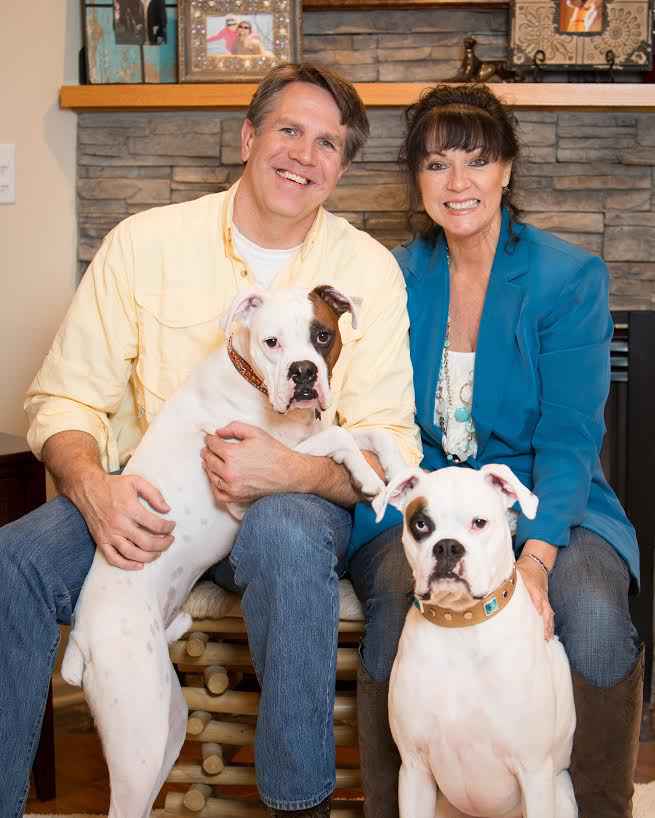 Christina and her husband Chris, with their first two deaf dogs, Bud (left) and Nitro (right).
Photo credit to: mobilephotovirginia.com
Do you have a deaf dog?? We'd love to hear your story! Message us on Facebook or email us at mail@herbsmithinc.com. ❤️