Great news! We've partnered up with SaddleBox for the month of June to send subscribers some of our (really awesome) Sound Horse Liniment. SaddleBox is a monthly subscription box chock-full of treats and supplements, grooming products, and fun things for horse-lovers and their horses. Here's a few reasons we love SaddleBox:
It's family owned! A guy named Phil, his wife Sharon, and their daughter Sophie are all horse-lovers. They wanted to (as they so eloquently put it) "foster the bond between horses and their owners", so they developed SaddleBox as a way to share their great horse product discoveries. Under the guidance of their mini horse Dash, all the products in the SaddleBox are horsey-tested and approved.
It's really convenient. Instead of having to go out and find all these fabulous products, the products come right to your doorstep every month (and shipping is free!) They make it so easy to spoil your horses.
It's backing a great cause. This is probably our favorite part of SaddleBox. A percentage of the profits from each box goes toward helping abused and abandoned horses. So by sending some fun stuff out to horse lovers every month, SaddleBox is also sending help to those horses in need. It's a win-win! You can read more about their awesome mission or sign up to receive your own box.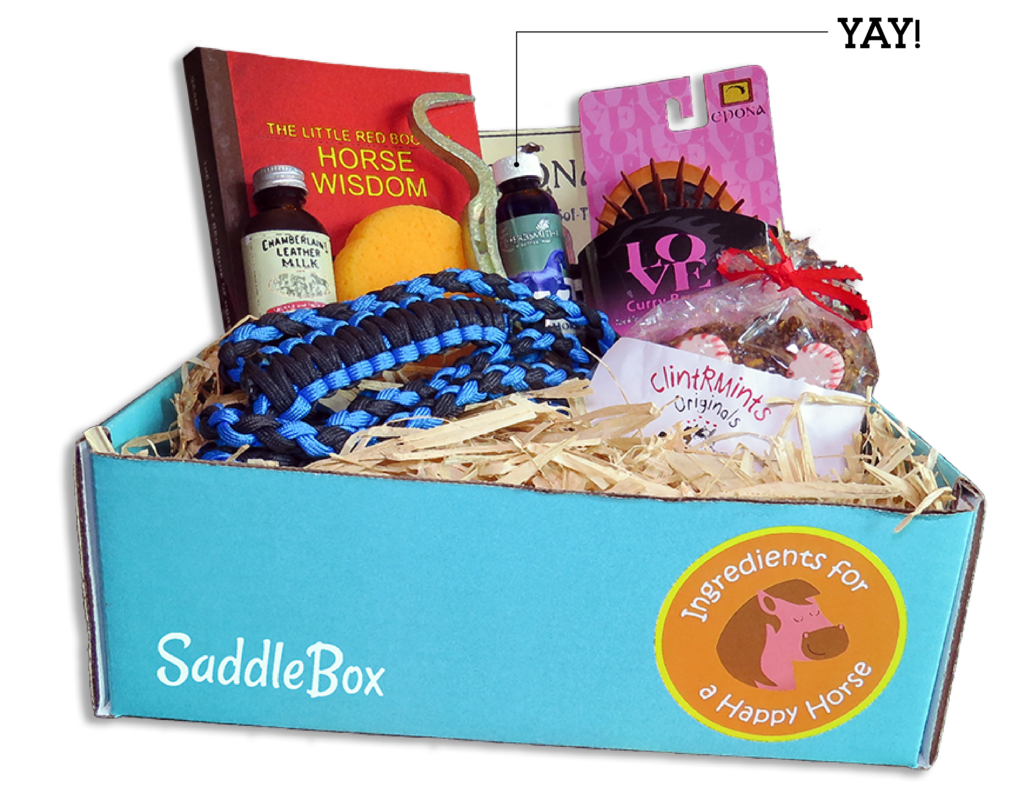 Keep a lookout for our Sound Horse Herbal Liniment in your June SaddleBox! Our gentle formula can be used with or without leg wraps and works well as a liniment massage or bath brace. It's is a natural botanical mixture that's great for animals with sensitive skin. A combination of witch hazel (a natural botanical extract that's been used for hundreds of years to soothe tight or tender muscles) and a fantastic blend of herbs (angelica, frankincense, myrrh, carthamus flower, achyranthes root, and notoginseng root), this natural blend can help to relieve inflammation, aches, and discomfort. We also add a light menthol mixture to open the pores of the skin and further maximize the effects.
And because we're so in love with what Saddlebox is doing, we're offering 10% off our 16-oz & larger sizes of Sound Horse Liniment for the months of June and July (use code SADDLEBOX10 at checkout).
On top of that, we'll donate another 10% to Habitat for Horses, an organization dedicated to rescuing abused and neglected horses. Since 1998, they've worked closely with law enforcement throughout Texas and across the nation, assisting in investigations, temporary holding, documentation, and court presentation in equine abuse and neglect cases. They offer adoptions and rehoming of rescued horses and the are actively involved in ending horse slaughter in the United States.