Even outside the holiday season, cats are notorious for climbing, jumping, and ransacking our houses. Throw holiday decorations and festivities into the mix and you've got yourself a recipe for disaster. 
Nothing marks the holiday season like dousing your home in shiny tinsel, sparkly ornaments, twinkling lights, and of course, a Christmas tree. But when you share your home with cats (or rather, your cats share a home with you), these festive frills can pose some serious hazards. 
Here are a few tips on cat-proofing your holiday home this season: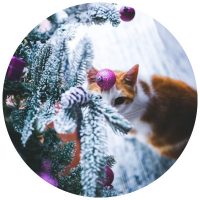 Most cats cannot even help themselves when it comes to mistreating the Christmas tree. They very often knock off ornaments or pull the tree down altogether! Although you may not be able to stop your kitty from exploring the greenery, you can do a few things to mitigate possible tree CATastrophes:
Anchor it down: 
Your best bet for keeping your tree where it should be is to ensure that it's properly anchored down. This way, if your kitty does decide to go for a climb, you can rest assured knowing she won't soon be yelling "TIMBER!"


Have a safety perimeter: 
You may want to consider placing the tree away from any furniture that could either be smushed by a faultily-anchored tree, or alternatively, could be used as a launching pad to get on the tree!


Notice the needles:
Did you know pine needles are toxic to kitties? If you invest in a real tree, make sure it stays well watered to prevent needles from dropping and becoming even more accessible to your cat.


Obstruct access to tree water:
Tree water treated with additives (like fertilizer or aspirin) can make cats sick. Even non-fertilized water can accumulate bacteria that your cat shouldn't drink. Make sure that water source is hidden from kitty. Covering it with a tree skirt, netting, or blocking it with some kind of barrier can keep your cat away.



Other options:



Most cats don't enjoy the smell of menthol or citrus – consider spraying the trunk of the tree with these scents to discourage a curious cat

Put unpleasant textures on the tree skirt to discourage cats from walking under the tree. Things like aluminum foil, pine cones, sticky surfaces, or nonslip rug bumps can deter your cat from exploring these places.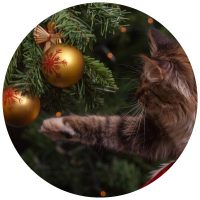 Shiny glass ornaments are intriguing for kitties—of course they'll want to investigate them! If you have a cat that loves to paw at ornaments, consider replacing the more fragile ones with wood, felt, yarn, or paper decorations. Broken glass ornaments have the potential to cause harm to pets and people, but with softer decorations, the worry of them shattering when knocked off the tree disappears!
Also, it may be smart to go easy on the tinsel with a curious kitty. If its swallowed, tinsel can cause all sorts of intestinal problems that may result in illness or even surgery. If you'd like to incorporate it, avoid having too many dangling ends and place it high enough that's its not as easily accessible.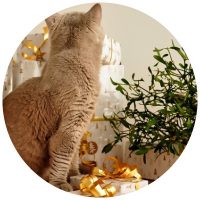 Everyone love to decorate with mistletoe, holly, and poinsettias during these festive times. They definitely add to the holiday spirit, but they're all also toxic to cats! Opt for a just-as-festive plastic option for your Christmas plants to keep kitty out of harm's way. (And hey, a bonus: Fake plants can be used over and over and look just as great every year!)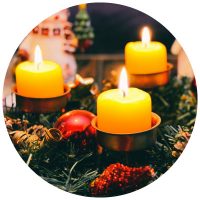 Because kitties like to explore, candles can be a gamble regardless of the season. Cats the develop an interest in candles may accidentally burn themselves or knock them over and cause a fire. If you're adamant on achieving that holiday glow, you can always invest in a battery operated option that feels just as warming.
Practicing holiday safety with cats involves safeguarding your home with kitty in mind. Even though Christmas is exciting, it's also chaotic and can at times be unpredictable! Taking precautions to ensure that your home is cat-proofed for the holidays will leave you with less stress and more cheer!